Data Analysis
Exchange
Market Analysis
Coinmarketcap
Founded in May 2013 by Brandon Chez, CoinMarketCap has quickly grown to become the most trusted source of data for users, institutions and media to compare thousands of crypto assets. And is commonly cited by CNBC, Bloomberg and other major news outlets. (Even the U.S....
CoinMarketCap is a cryptocurrency price tracking website founded in 2013 that tracks a large number of cryptocurrencies including Bitcoin, Ether, Zilliqa, Zcash and SafeMoon. it is one of the most referenced cryptocurrency websites in the world and is often popular on Twitter and Instagram. This review will discuss what CoinMarketCap is, how it works, and how it can help you track and diversify your portfolio and potentially make a profit. We will also list a large number of popular coins on the site so you know what to look out for.
What is CoinMarketCap?
CoinMarketCap is a free cryptocurrency website that tracks the prices of over 16,000 cryptocurrencies with a total market capitalization of $1.924 trillion, or 1.4 trillion pounds (£). It is sometimes referred to as the Wikipedia of crypto (Wiki).
CoinMarketCap was launched in 2013 by founder and former owner Brandon Chez. Today, Binance Holdings Limited owns and operates the business.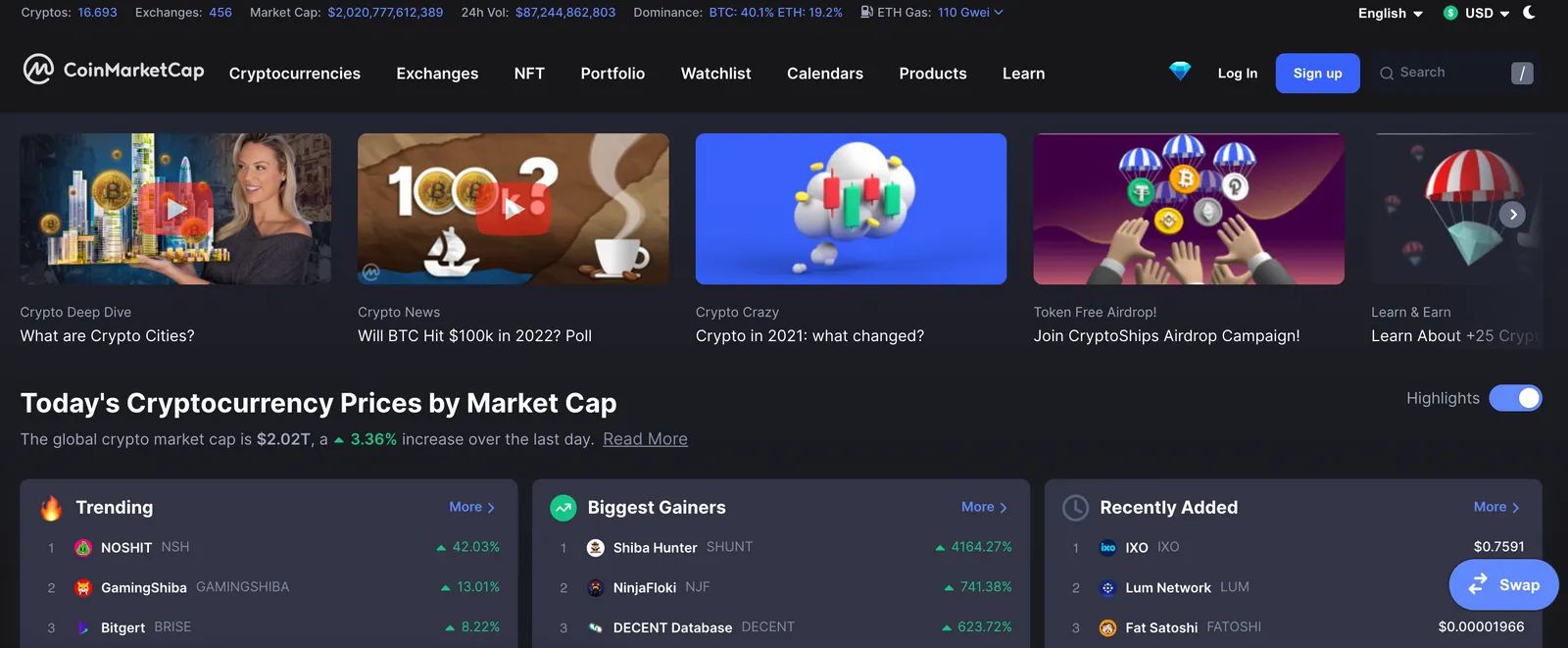 Contrary to popular belief, CoinMarketCap is not an exchange, wallet or trading platform and does not list these tokens for purchase. Instead, the site tracks and displays the prices of different tokens and provides links to various exchanges where you can buy and trade tokens. Different types of exchanges are offered, such as spot exchanges, derivatives exchanges, and decentralized financial (DeFi) exchanges or DEX.
Brief History
May 2013 - First Release

May 2016 - Launch of the first public API

May 2018 - Develop and publish mobile apps for iOS downloads

August 2018 - Launch of Professional API

April 2019 - CoinMarketCap Launches Android App

November 2019 - Introduction of liquidity metrics

April 2020 - CoinMarketCap Acquired by Coinan for $400 Million
The top exchange for token trading. Follow the instructions and make unlimited money
How CoinMarketCap works
CoinMarketCap collects and collates real-time information from a variety of sources. This information is used to provide accurate price tracking on verified crypto assets such as Crypto Cricket Club (3CS), 2Local (2LC), VideoCoin (VID), WAX (WAXP), Universal Cash (UCASH) and WinkLink (WIN).
CoinMarketCap provides a range of information about each asset. Some of the statistics include prices, price changes, 24-hour highs and lows, trading volume and market capitalization (caps). You can view a range of charts over different time periods, such as 1 hour, 24 hours, 7 days, 30 days or 1 year. Historical data is also available, including the best performing coins from previous years. Some coins are listed as untracked, which shows some information, but they are not tracked in real time. Users can also set up price alerts and notifications.
If you're not searching for a specific token, you can use CoinMarketCap to see the range of tokens being tracked. You can view all lists, the top 500, 300, 100, 30 or 5 coins, or you can search for the largest/up coins, the most viewed, the most recently added coins and new coins, or even the largest declines.
How do I use CoinMarketCap (CMC)?
Becoming a cryptocurrency expert is all about identifying patterns, catching new trends and discovering hidden gems that can present you with lucrative opportunities. All of this requires full access to data that is usually scattered across different platforms and websites. 
🔥 If you are a beginner. I believe the following article will be useful for you ☞ What You Should Know Before Investing in Cryptocurrencies - For Beginners
CoinMarketCap (CMC) is a free to use website that not only consolidates this data and information under one umbrella, but also uses graphs and charts to analyze and track various cryptocurrencies.
From the market capitalization of various cryptocurrencies to their maximum and total supply and even their daily price movements on multiple exchanges, CMC provides crypto traders and enthusiasts with in-depth and useful data to help them make educated investment decisions.
CoinMarketCap's price and global market indicators
First and foremost, the main purpose of the CMC is the market indicators they provide so that crypto enthusiasts can access an easily verifiable source of information about the thousands of crypto assets listed on the CMC.
Once you enter the CMC home page, you will easily identify some of the global indicators displayed at the top of the page.
This section includes the following indicators.
 The total number of cryptocurrencies currently listed on CMC is 11,776.
Next, you will get information about the total number of featured exchanges set to 405 at the time of writing.
There is also data on the total market capitalization of the entire market which is now set at over $2 trillion. You can use this metric to track how much money is flowing into the industry as a whole.
You also have the Bitcoin and Ether Dominance Calculator, which shows you what percentage of the overall industry market cap is dedicated to BTC and ETH. While market sentiment is usually determined by the movement of Bitcoin, when Bitcoin is less dominant, other smaller crypto assets get the attention of investors. Currently, Bitcoin accounts for 41.2% and Ether accounts for 19.4%
You can then see the 24-hour volume indicator, which is currently set to over $178 billion. 
With Ether becoming the default dApp platform, not to mention the popularity of the DeFi platform, CoinMarketCap now also shows you the current Ether gas fees that you should expect whether you want to make fast, slow or standard transactions on the Ether network.
Other features at the top of the home page include the option to switch to "dark mode" and a button to select which legal tender you want to use to view coin rankings.
CoinMarketCap's search function
Using the CMC search function, you can find almost any cryptocurrency you want. 
Of course, some tokens are not listed on the CMC, but with over 10,000 tokens to date, the CMC is one of the best places to search for any token. 
You can search by typing in the name of the project or the ticker symbol that comes with the cryptocurrency or token. This is one of the features that makes CMC stand out, as it aims to be a one-stop shop for discovering brand new cryptocurrencies that are emerging in the industry.
CMC's coin index
After searching for the desired cryptocurrency, you can click on its icon to access individual metrics about that crypto asset. cmc provides an intuitive interface for each digital asset. The dashboard is standard for all cryptocurrencies. 
At the top, you can see the ranking of the token and how many people have it in their watchlist. In the case of Cardano ADA, for example, more than 1.3 million people have it on their watch list. 
The interface also comes with a price section containing 24-hour percentage change indicators for USD (the chosen fiat currency) as well as for BTC and ETH. 
Next, you will be provided with a link to the official cryptocurrency website, which includes a blockchain browser link that will allow you to view the real-time activity of transactions on the project's blockchain network. 
CMC also comes with links to the project whitepaper, community and chat groups, and a link to the Coinan smartchain contract. 
Market Value
You can also view the total market value of the circulating supply of cryptocurrencies. This is calculated by multiplying the last market price of a cryptocurrency by the circulating supply of tokens. For example, if the last price of Bitcoin was $10,000 and the current circulating supply is 17 million BTC, the final market cap would be 17,000,000 times 50,000, giving a market cap of $170,000,000,000 for BTC. 
Fully diluted market capitalization
If the maximum supply of cryptocurrencies is in circulation, this data will show the market value of the cryptocurrency. In most cases, the circulating supply of crypto assets is not their maximum supply because no more crypto assets have been minted yet. For example, Bitcoin has a circulating supply of 18.8 million, but its maximum supply is 21 million. For tokens with an unlimited number of tokens, the fully diluted market cap metric would be null. 
24 Hour Volume
This allows you to measure how much of a given cryptocurrency has been traded in the last 24 hours. This number is achieved by counting the number reported by exchanges. coinMarketCap then uses its existing reference prices to determine the final value. 
Circulation supply
Then we have a metric for the circulating supply of tokens. This approximates the number of coins held by the public and serves as a better metric for determining the market value of crypto assets than the total supply. This approach is similar to using the public shareholding technique in traditional markets where the value of an asset is determined by the portion of shares held by the public. 
The CoinMarketCap team verifies the circulating supply of each coin by communicating with the project team. the CMC team asks the project manager for detailed information, such as the initial allocation of crypto assets, their private allocation, and the number of tokens locked in the address for team marketing purposes or other purposes. 
The CMC team also evaluated the project's blockchain and distribution tables to arrive at an approximation of a freely circulating cryptocurrency.
Maximum supply 
This metric indicates the number of tokens that will exist throughout the project lifecycle.
 Similar to Circulation Supply, the CMC team will ask the program team for this information and any attempt by CMC to manipulate the data will disqualify the program from being listed on the CMC website. 
Chart Data
You can also get chart data with a historical view of asset price movements. You can set it to see the historical performance of tokens or set it to 1 day, 1 week or several months. 
Historical Data
In addition to viewing the market price trend of a coin, you can also use the CMC to view historical price data for that coin. For example, you can click the Historical Data button at the top of the chart to see the coin's price on a specific date in the past. 
This allows you to determine the overall price trajectory of a coin over time, or use the data to change or influence your trading strategy.
CMC Exchange Rankings
The liquidity of various exchanges is a key factor in a smooth trading experience. Therefore, CMC has listed and ranked the most liquid cryptocurrency exchanges so that anyone can easily buy and sell multiple cryptocurrencies. You can view a list of exchanges available for specific crypto assets below the program's Coin Metrics chat.
You can also return to the home page and view the Exchange tab. cmc gives you the option to browse different categories of exchanges, from spot exchanges to derivatives markets and decentralized exchanges. 
You can continue to view all the spot exchange features on CMC and compare their trading volume, average liquidity and the number of times users visit the exchange per week. 
You can also access more in-depth insights about a specific exchange, such as the exchange's featured pairs, its official website, its Twitter account, and the types of fees the exchange charges.
CMC's NFT Ranking
As the NFT continues to explode, crypto enthusiasts looking for the hottest and newest NFT-based projects can check out CMC's NFT ranking page, which lists NFTs based on 7 days of sales. 
NFTs are listed in order of highest collection value. Given that most NFTs contain collections of various items, CMC uses the net collection value to determine the value of each NFT item. 
For example, CryptoPunks has over 10,000 assets with a total net asset value of over $1.2 billion. The floor prices shown on these charts show the prices of the lowest value items in the NFT portfolio.
CoinMarketCap's Calendar
If you want to stay up-to-date on upcoming events in the blockchain and crypto space, CMC's calendar provides an impressive list of upcoming updates, events and conferences for various crypto projects. This is a great way to stay on the cutting edge of the industry, as news of updates and project-related events usually leads to price increases. 
CMC also provides a calendar for upcoming airdrops so that you can get your free cryptocurrency in a timely manner. 
There is also a calendar for upcoming or completed Initial Coin Offerings (ICOs)
Portfolio Management
Maybe you want to keep track of the tokens in your portfolio, well CoinMarketCap makes it easy to keep track of all the tokens you want with its portfolio feature. You can access the link to the Portfolio section on the main screen. 
CMC provides you with the option to customize different portfolios, which you can set up for different exchanges. 
To add a trade to the portfolio, simply click the "Add New" button.
This will allow you to add any number of tokens you have recently purchased or sold, as shown below.
You can also add the fees you pay and details that help you track transactions and deals. 
Once completed, you will be able to see an overview of your assets and their total value, as shown in the example below.
CMC's Watch List
You can use CMC to create custom lists of cryptocurrencies to keep an eye on. After registering, click on the Watchlist tab that will lead you to the Watchlist. Add coins to your watchlist by clicking the "Add Coin" button.
You can also click the "watch" icon on the coin page to add it to your watch list. 
Other options include clicking the star icon on the general list of ranked cryptocurrencies to add coins to your watchlist. 
CMC allows you to set up multiple watch lists, and you can even edit your watch list to make it public or private. 
CoinMarketCap Alexander
Finally, CMC offers a learning platform called Alexandria where you can learn about anything related to decentralized finance, cryptocurrencies and blockchain. You can choose from a variety of topics, ranging from basic concepts and how-to articles to technical in-depth studies that provide in-depth information about specific projects. 
You can also learn about cryptocurrencies by completing quizzes using your new knowledge. This mainly supports emerging crypto projects. Check out the "Earn" page on the CMC website to find several programs whose cryptocurrency can be earned by learning and answering questions related to the program.
Comprehensive encryption platform
In addition to the features listed above, CoinMArketCap also offers other interesting features such as an API (Application Programming Interface) that allows you to extract market data from their platform to an Excel sheet or another program or even another platform. cryptoexchangereviews.com uses the API to populate their various exchange reviews as well as Their trading pairs area is populated with coin data for people who want to explore using trading robots as a means of automated trading.
This API can be used to test different trading strategies and other experiments.CMC also offers converters, a working board for crypto-related projects, token exchange protocols on the Ether, BSC and HECO blockchains, and mobile apps. If you wish to start your crypto journey, or even if you already know your way around, be sure to try CoinMarketCap.
CoinMarketCap's final decision
CoinMarketCap is an extensive and comprehensive cryptocurrency website accessible on desktop and mobile devices with a wealth of DeFi information, useful tools, and free crypto rewards. Users can track over 16,000 cryptocurrencies, set up watchlists, track portfolios, backtest strategies, and more. CoinMarketCap is a great source of data for beginners and experienced crypto traders alike, even without paying for premium API services. With a high level of customizability, it's easy to see why CoinMarketCap is so popular!
🔺Disclaimer: The information in the post is not financial advice and is for general information purposes only. Trading cryptocurrencies is risky. Make sure you understand these risks and that you are responsible for what you do with your money.
Relevant Navigation