Institutional "bull rush"? Analysts: 85% rally driven by U.S. institutional investors
Cryptocurrency prices have remained relatively stable over the past 24 hours, and at press timeBitcoinBitcoin rallied more than 53% since last November's low of $15,476. analysts believe that institutional investors have contributed significantly to this rally.Financial Services Company Matrixport  A report released on January 27 shows that recent data suggests that as much as $85% of the bitcoin rally has been driven by U.S. institutional investors.
Unlike stocks, crypto markets trade 24 hours a day, allowing observers to track order flow across time zones and infer the source of buying and selling pressure. driven by institutional investors. Analysts believe that if a 24-hour traded asset is performing well in the U.S. session, this should indicate that U.S. institutions are buying it, while if it is performing well in the Asian session, it means that Asian retail investors are buying.
Bitcoin has gained 40% year-to-date, with 35% of the return occurring in the U.S. trading session, which analysts believe means that "85% of the contribution" is tied to U.S. investors, suggesting that U.S. institutions are now the primary buyers of bitcoin.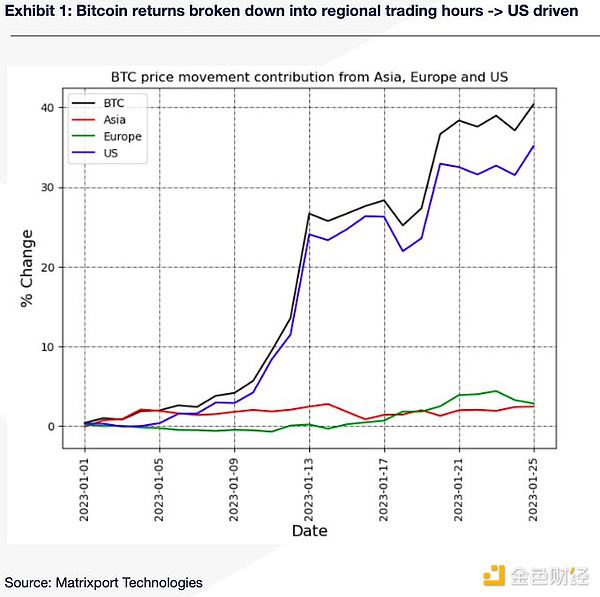 The report concludes that this "should be a very positive sign for Bitcoin" as institutional adoption continues.
According to Markus Thielen, head of research and strategy at Matrixport, this evidence suggests that institutions are not "giving up on cryptocurrencies" and that we may be entering a new "cryptocurrency bull market".
Thielen added that previous data shows that institutions typically start buying bitcoin first before investing in other cryptocurrencies. He noted, "If history is any guide, then we should see Layer 1 and cottage coins outperform relative to bitcoin."
He also mentioned that Ether seems to be performing well in the US session, indicating "institutional inflows" into the cryptocurrency, while "the Aptos token could rally further as Korean retail traders will start to dominate the trend".
The bullish institutional sentiment is also evident in the new premiums for bitcoin futures listed on the Chicago Mercantile Exchange (CME).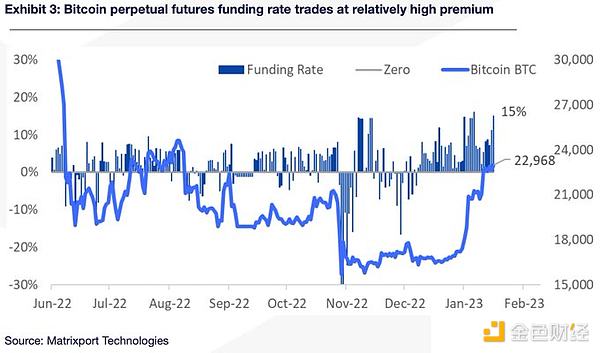 Thielen notes, "Institutions are not only buying bitcoin spot; we are also seeing continued high premiums on perpetual futures. We interpret this as a sign that institutional traders and hedge funds are accelerating their buying".
Deutsche Digital Assets made a similar observation earlier this month, alerting investors to Coinbase The rise in premiums as evidence of increased buying interest from sophisticated U.S. investors versus retail investors.
"Traditional and cryptocurrency-focused hedge funds, corporations and traditional asset managers have been buying," wrote David Guong, head of research at Coinbase Institutional, in a recently released weekly market commentary.
Technical indicators show mild oversold
From a technical perspective, the Bitcoin Relative Strength Index (RSI) indicator is currently showing 81.9 on cryptocurrency exchanges LMAX Digital Market strategist Joel Kruger believes that BTC's price is currently mildly overbought (above 70 indicates an overbought asset). Based on the August peak, Kruger sees the next significant resistance for BTC at around $25,200, but does not rule out "the possibility of BTC falling $10,000 in the first half of the year" or "seeing it rally above $50,000 in the second half of the year " possibility.
Data from Coinglass shows that as of Friday, funding rates for BTC are currently at around 0.01%, suggesting that market sentiment among traders is leaning bullish, but still well below the 0.06% level recorded in February or November 2021.
Cryptocurrency data and analytics companyIntoTheBlock's head of research, Lucas Outumuro, said, "Current derivatives levels indicate market optimism, but at the same time are not overheated, which could create a case for a sustained rally."
Federal ReserveSignals influence the market
Crypto markets rose slightly after Friday's latest U.S. personal consumption expenditures (PCE) report showed a slowdown in inflation. Looking ahead to next week, the market is closely watching the Federal Open Market Committee's (FOMC) interest rate decision and hints on when policy makers may drop rate hikes.
Oanda Senior Market Analyst Edward Moya "Bitcoin should still consolidate until the FOMC makes a decision, with downside risks if the Fed sticks to its hawkish mantra," it said in a report on Friday.
Related posts